Morphy Richards 480003 Health Air Fryer
Morphy Richards 480003 Health Air Fryer
---
Marka: Morphy Richards
Renk: Siyah
Capacity: 3.0 Litres

---
Şartlar ve Koşullar
Teslimat: 2-3 İş Günü
---
Açıklama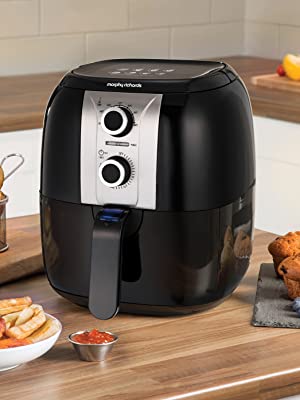 The Morphy Richards Health Fryer couldn't be easier to use, thanks to its manual dials. Simply select the time you want to cook for and the temperature you want to cook at for easy and delicious meals in a healthy way.
Not only is the fryer easy to use, but it also features a number of safety features, such as a cool-touch detachable handle, which means that it's safe to handle at any time during the cooking process.
Morphy Richards 480003 Health Fryer 3L, Black
The Morphy Richards Health Fryer requires a substantially smaller amount of oil than a conventional fryer, making it a healthy option to fry, bake, roast and grill a variety of great tasting foods.
Meal times have never been less hassle, as the product has a large 3L capacity, meaning that it's possible to make enough food for the entire family in one go. It also has a defrost option, so that frozen food can be cooked straight away.
Low Oil Frying-cook your favourite meals with less fat

Extra Large Capacity-cook 2-4 portions

Rapid Air Technology-for perfectly fried food without the fat

Easy to Use Manual Controls - simply select cooking time and temperature
| | | |
| --- | --- | --- |
| Fry, bake, roast and grill your favourite family meals with a fraction of the oil. Create healthier more convenient meals for the family, using only one teaspoon of oil. | Rapid Air Technology ensures air is evenly distributed during the cooking process. This technology ensures the food is cooked evenly throughout and creating a faster cooking time. The main frying pan is also perforated, allowing the hot air to circulate from the bottom to the top of the frying pan. | The Health Fryer boasts a 3L capacity, easily serving a family of 4 or 6 starter portions. The rapid air technology ensures the food is cooked evenly, even on larger load quantities. |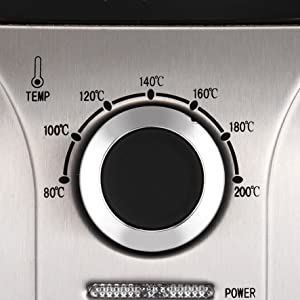 With easy-to-use manual dials to control cooking time and temperature, you can easily cook to your desired preferences. Simply select both and the health fryer will notify you when your cooking programme has reached the end.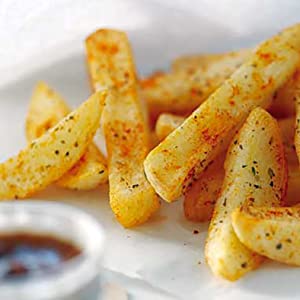 Enjoy cooking delicious, homemade dishes from chips to blueberry muffins. The Health Fryer can cook starters through to desserts, making cooking for the family a breeze.
| | |
| --- | --- |
| Brand | ‎Morphy Richards |
| Model Number | ‎480003 |
| Colour | ‎Black |
| Product Dimensions | ‎28 x 35 x 32 cm; 6 Kilograms |
| Capacity | ‎3 litres |
| Power / Wattage | ‎1400 watts |
| Voltage | ‎240 Volts |
| Material | ‎Plastic |
| Special Features | ‎Rapid Air Technology, Manual User Controls, Low Oil Frying, Versatile, Large Capacity |
| Item Weight | ‎6 kg |
About this item
Low oil frying - cook your favourite meals with less fat

Extra large capacity - cook 2-4 portions

Rapid air technology - for perfectly fried food without the fat

Easy to use manual controls - simply select cooking time and temperature